The Guardian has run a great piece in their paper titled "
Vauxhall and BMW among Car Firms Linked to Child Labour Over Glittery Mica Paint
". This article shows the results of the paper's investigation into illegal mica mines in India and the use of child labor. Not the type of headline your company wants to have. I will summarize the impact on supply chains but you should read the full article at the Guardian website. It is a bit troubling that major companies are still claiming ignorance on issues such as this.
Of course this has huge implications for supply chains. How do you get the materials you need from thousands of suppliers and still maintain control over the way the materials are extracted and handled. This is especially important when it relates to raw materials mined from the earth. So often, these materials are mined in 3d world counties with no standards on safety or child labor. The cosmetics and car industries are learning a lot right now.
If you are responsible for any type of procurement in your supply chain and you are not actively and aggressively working with all your suppliers (Walk the "tiers" all the way back to the raw material extraction) then you are putting your company's brand and reputation in grave danger. Remember, Brand Value is only made up in trust. Trust can disappear over night. When the first thing a company says to the press after a story like this comes out is "We don't discuss supplier relations with the press" (like PPG initially did), you know they have been caught off guard. Either they had no program or it was woefully inadequate and now they are scrambling to find out what the heck is going on.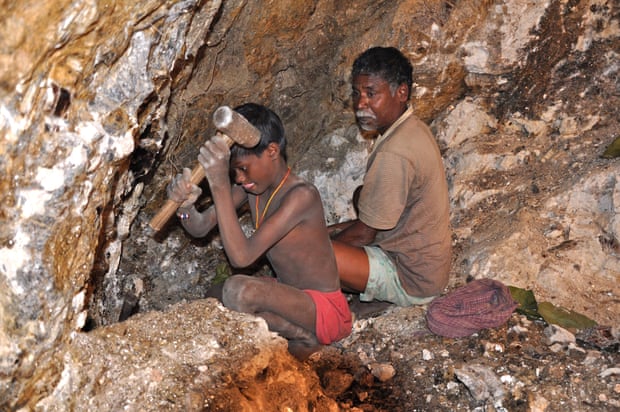 Picture from The Guardian
Some thoughts on what you should be doing:
Prioritize Social Responsibility and Responsible Sourcing Strategies by appointing a "C" level executive as the program sponsor.

If a price for an item or for materials is "too good to be true" then it probably is and you should investigate.

Have a no tolerance policy. No "slaps on the wrist" but rather eradicate from your portfolio any supplier who is non compliant.

Have "boots on the ground" in all countries where you have significant presence. If you know the "sparkle in the paint" comes from mica in India and you know it is mined - you need to be there. Someone needs to go and inspect (It always amazes me how these newspapers can find it with no problem but the key executives will say 'I had no idea.. '.
Finally, as consumers, we need to continue to ask and probe before we buy. Before you buy that sparkling new car with the beautiful metallic paint, do a little research. You may find out your beautiful car is a product of a 7 year old with a pick axe breathing toxic materials and being sentenced to a life of what is essentially slavery.